I'm one of the oldest dinosaurs around here at 92.9. I'm a music lover at heart who grew up in Goleta listening to anything from Iron Maiden to Iron & Wine! I've played in some bands and started at KJEE over a decade ago interning at nights then picking up a weekend shift. Since then I think I've done every air shift except the Morning Show. These days you can catch me on the air from 9am-2pm weekdays and I'm also The Music Director. Living in Santa Barbara and working in radio is truly a labor of love.

I feel pretty lucky and proud to be part of not only the best radio station in Santa Barbara, but one of the most unique, fun and only non corporate stations left in the country. Plus I get to work with Phat J every single day.

Cheers!
Copyright

2015 -- Privacy -- User Agreement -- Contest Rules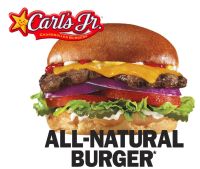 The Carl's Jr. All-Natural Burger features an all-natural, grass-fed and free-range beef patty with no added hormones, no antibiotics, and no steroids! Get a $1 off now!