-----------------------------------------------------------------------------------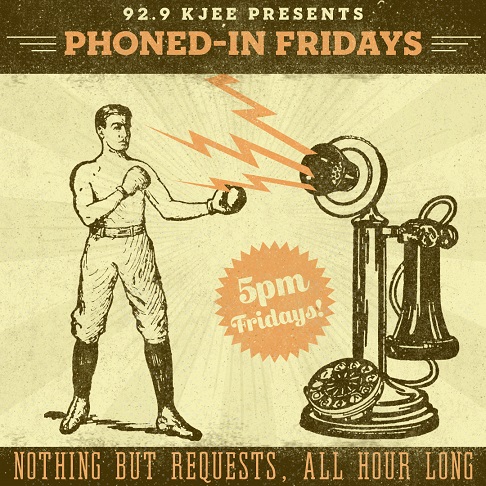 PHONED-IN FRIDAYS ☎

This Friday at 5pm KJEE is phoning it in and letting YOU pick the music. NOTHING BUT REQUESTS FOR THE WHOLE HOUR - so get a little weird with it. Deep cuts, remixes and stuff just a little outside of our genre. Just no Free Bird. Phone-in your requests to 805-899-3292 or send us your requests on Facebook, Twitter or Instagram.
-----------------------------------------------------------------------------------------------

Hosted by Haaris Sunday 9p-11p
January 17, 2021
1. Apifera "Gercekten Orada Degilsin" stones throw
2. Alex Maas "500 Dreams" Innovative Leisure
3. Menahan Street Band "Midnight Morning" Daptone
4. Buck Meek "Candle" Keeled Scales
5. Thunder Dreamer "Of A Million" Lonesome Morning
6. Skyway Man "Atom Bomb"
7. Psychedelic Porn Crumpets "Pukebox" What Reality?
8. The Antlers "Solstice" Anti
9. The Black Crowes "Charming Mess" American
10. Sir Chloe "Michelle" Terrible
11. Smith & Burrows Parliament Hill" [PIAS]
12. Teenage Wrist "Yellowbelly" Epitaph
13. Alivenique "Tune In [Prelude]" Lightning
14. Sleaford Mods "Nudge It" Rough Trade
15. Homeschool "Satisfied" WEPRSNT
16. Tribulation "Funeral Pyre" Metal Blade
-hour 2-
17. Cloud Nothings "Am I Something" Carpark
18. Cartel Madras "DRIFT" sub pop
19. IAN SWEET "Drink The Lake" Polyvinyl
20. Visionist "The Fold" Mute
21. DARKSIDE "Liberty Bell"
22. Smerz "Believer" XL
23. Playboi Carti "Slay3r" Interscope
24. The Darcys "Chasing The Fall"
25. VHS Collection "Searching For The Light" [PIAS]
26. Hiss Golden Messenger "SANCTUARY" Merge
27. Lael Neale "Blue Vein" Sub Pop
28. Frances Forever "Space Girl" Mom+Pop
29. Another Michael "I Know You're Wrong"
30. Haviah Mighty "Atlantic"
31. Krithi "Decrepit"
Copyright

2020 -- Privacy -- User Agreement -- EEO Policy -- Contest Rules